Oh gosh the cuteness. My head started spinning with possibilities when the lovely and talented
Nadra Ridgeway
asked me to take part in a blog hop for her new Arbor Blossom fabric line. The gorgeous colors, the darling florals,
sigh
. Thank you my friend, this is such a treat! If you're not already following
Nadra on Instagram
, I encourage you to do so for a daily dose of inspiration and quilty gorgeousness.
Always hunting for perfect minty green fabrics, I felt like a kid in a candy shop when I saw just how many green prints were in this fabric line. In need of a new hot pad for my teapot, I knew a Granny Smith version of my Easy as Pie apple potholder was in my future.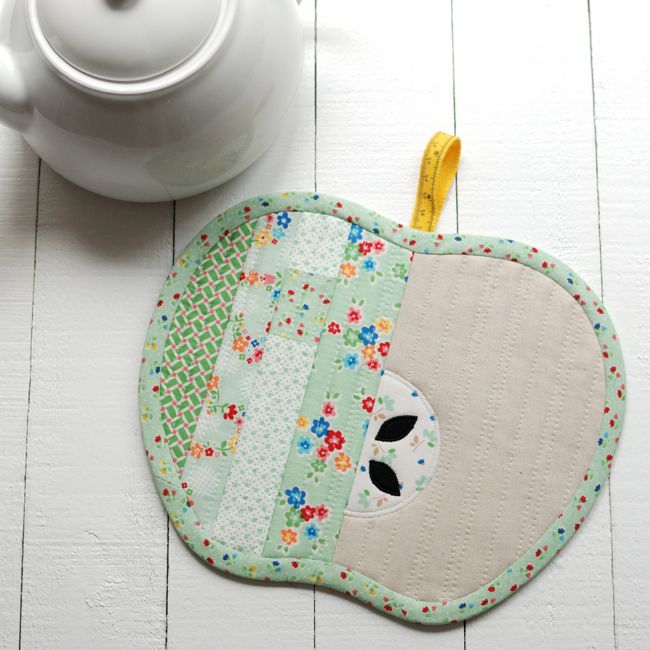 :: apple potholder pattern from my book ::
And because you can never have too much fabric fruit around, I made a new pear pincushion as well. I keep several handmade pincushions throughout my sewing room, though instead of pins, they are stuck full of threaded embroidery needles--so convenient!
:: pear pincushion pattern from my shop ::
For my third project, I just had to make a zipper pouch with this amazing red floral print. I love using little notions as decorations, and I think this bag will be perfect for storing small sewing accessories. I started out with my sewing kit template and tinkered with it until I had a bag in the shape I wanted.
A peek at the inside
For more Arbor Blossom projects, follow along with the blog hop all week!
Arbor Blossom is available now, so no need to wait to get sewing!
Happy Stitching,
Kim