The moment Kerri Horsley's Lovely Little Patchwork arrived in my mailbox I could see that it was quintessentially Kerri: 18 projects bursting with her signature style--lots of lush aqua and red, and completely adorable--just like her
blog
and
Instagram
. I couldn't wait to get started on my project for the blog tour!
When I found this sweet bunny planter on Etsy (@
VintagePrairieHome
) I knew instantly that she was perfect for a pincushion. Hop in my cart, little bunny, we've got hexagons to sew!
Half-inch hexies were the perfect size for this planter, and it turned out super cute! Probably the biggest challenge of this project was digging through my stash to find fabric prints with a small enough scale to fit in such a tiny space. I printed my hexagons on cardstock, punched little holes in the center of each one, and used a tiny crochet hook to remove the papers when I was finished.
These patchwork Heart Coasters were calling to me too (monochromatic color scheme
and
ric rac? Yes, please!), so I jumped right into a second project from the book. Despite having a large collection of ric rac, I didn't have any in a 3/4" width. I happily discovered, however, that Riley Blake makes thoroughly gorgeous trims that are just the right size.
Though I've never done stipple quilting before, this turned out to be a great first stippling project. After much practice and a few mistakes (shhhh!), I had a darling set of coasters, and my tea mug is thrilled to have a pretty new resting spot!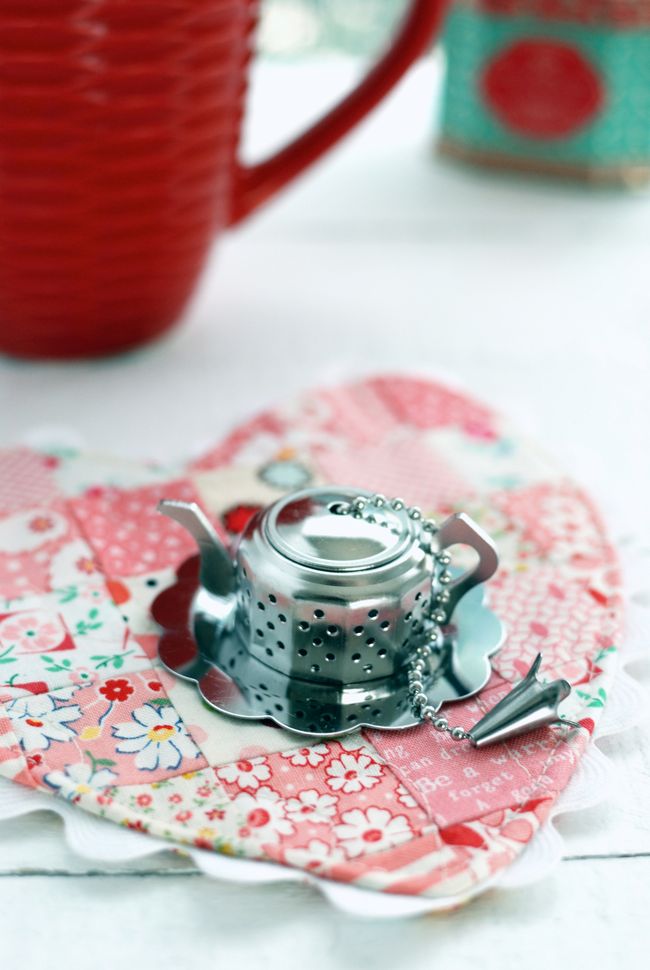 For more Lovely Little Patchwork project inspiration, be sure to visit each stop on the blog tour and search #lovelylittlepatchwork on Instagram!
27.08.16 Amanda Niederhauser
Jedi Craft Girl
28.08.16 Sarah Edgar
A Happy Little Place
29.08.16 Heidi Staples
Fabric Mutt
29.09.16 Megan Jimenez
Quilt Story
02.09.16 Cheri Lehnow
Tinker With This
03.09.16 Ange Hamilton
A Little Patchwork
04.09.16 Sedef Imer
Down Grapevine Lane
05.09.16 Kimberly Jolly
Fat Quarter Shop
06.09.16 Samantha Dorn
Aqua Paisley Studio
07.09.16 Ayda Algın
Cafenohut
08.09.16 LeAnne Ballard
Everyday Celebrate
09.09.16 Sharon Burgess
Lilabelle Lane
10.09.16 Lauren Wright
Molly and Mama
11.09.16 Kate May
Homemakery
12.09.16 Debbie Homick
Happy Little Cottage
13.09.16 Wynn Tan
zakkaArt
14.09.16 Kim Kruzich
Retro Mama
15.09.16 Jennie Pickett
Clover and Violet
16.09.16 Veronica AM
Vivid Felicity
17.09.16 Nadra Ridgeway
Ellis and Higgs
19.09.16 Minki Kim
Minki's Work Table
20.09.16 Sharon Yeager
Daisy Cottage Quilting
21.09.16 Peta Peace
She Quilts A Lot
22.09.16 Sarah Scott
Piccolo Studio
23.09.16 Kristin Cobb
Gooba Designs
24.09.16 Erin Cox
Why Not Sew
25.09.16 Kerri Horsley
Lovely Little Handmades
Happy Stitching!
Save
Save