We are stitching up my new
Pins and Needles Book pattern
together this month, and it's been so fun seeing all the different styles and details that everyone is using! If you want to join in, all you need is to share photos of your completed needle books on Instagram with the hashtag
#pinsandneedlesSAL
and you'll be entered to win, now through August 4.
Read on to see what I've been sewing and to see our SAL winners for weeks 1 and 2!
I used 3/4" sided hexagons for this EPP needle book, and with 22 hexagons, it was just right for a weekend project!
The front slip pocket fits a little notebook so I can keep notes when designing patterns. I'm constantly losing little slips of paper with my scrawled out measurements, so this should *fingers crossed* help keep me organized! I added a hexagon and ribbon to one of the felt pages and I love those sweet ladybugs on the zipper pocket!
I also posted this video, which shows how to measure and join bias binding to perfectly fit your needle book (or any small project!):
And now for the winners of Weeks 1 and 2...
Elnora
@elnorac
and Lori
@lorimillerdesigns
chose the winners and also provided fabulous prizes for Week 1!
Week 1 Winners
(photo credits to Lindsay and Stef)
Stef
@stef_andthefabricpieces
This amazing Liberty needle book is delightful—from the circle appliques to the French knots, I love every little thing about it. Stef's work is impeccable!
Lindsay
@linzentart
How sweet is this adorable starry pouch? I love the darling details and that touch of linen on the back! Lindsay's makes are always so whimsical!
Stephanie
@sissybellesews
and Zoe
@zoemayson
chose the winners and awarded prizes for Week 2. Thanks so much, my friends!
Week 2 Winners
(photo credits to Sally and Brigitte)
Sally
@sally_rosson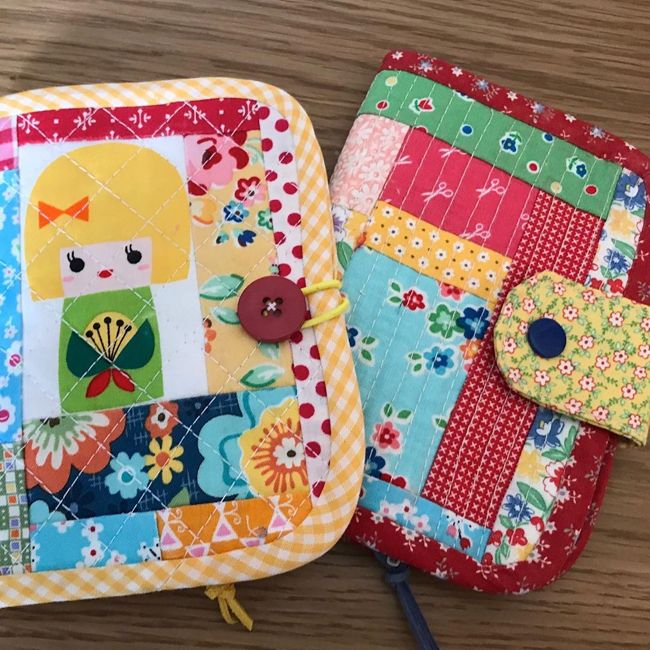 I love this sweet pair of needle books that Sally stitched up--the cute fabrics she chose look so great together! Gorgeous work, Sally!
Brigitte
@brigitteschoelinck
This cheery floral needle book that Brigitte made in floral prints is so lovely, what a great use for precious Liberty scraps!
There have been so many amazing needle books so far and more to come! I can't wait to see them! Thanks to all who are participating and to those following along, too!
Happy Stitching,
Kim